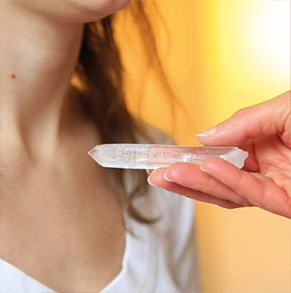 Atlantis Crystal Healing

The Atlantis Crystal Healing is based on old Atlantis knowledge of the healing power of crystals. With the use of the Crystals a very effective healing for your body and soul can be initiated. The Crystal Healing includes a wide range of treatment options.
Some possibilities include:

Crystal Surgery: this addresses physical complaints, such as organs, teeth, joints, migraine, eczema or physical rehabilitation from an accident, illness or surgery


Blast Blocks: fear, trauma, emotional injuries are resolved


The Golden Crystal: this addresses extreme fatigue and lack of drive as well as facilitates the resolution of crisis, treats imbalances of the Liver and Bile production


Support of Children: inner restlessness, lack of concentration, hyperactivity, aggressive behavior, and developmental delays can be addressed


Vision Crystal: discover answers on internal issues and identify developmental steps


Protection Chrystal: strengthen your inner space and prevent yourself from absorbing energies from other people


Fire Stone: bears a very high power of transformation. It supports and accelerates personal development and discovery
The crystal healer works in a non-invasive way, and if necessary with multiple treatments, until the desired result has stabilized on both a physical and spiritual level.

The healing is non-verbal with deep-reaching effects. Crystal healing can be beautifully integrated into a treatment plan as the great variety of methods will both supplement and enhance orthodox, alternative and complementary procedures.